Results : RS100 Rooster National Tour
(6 events, 3 to count)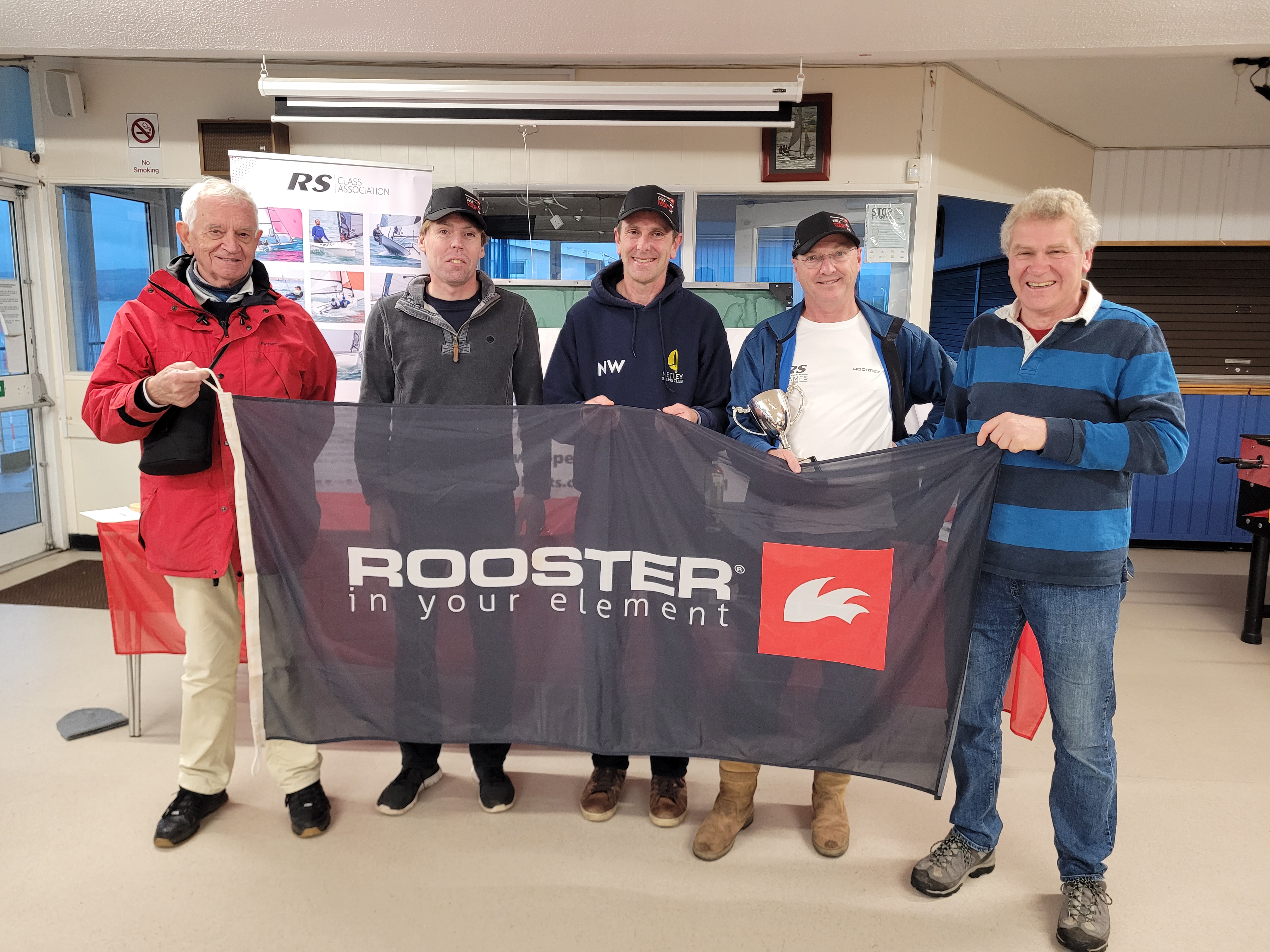 Congratulations to Clive Eplett, RS100 Rooster National Tour Winner 2023!
There were 6 events (3 to count) used to determine the Rooster National Tour winner for 2023:
The Sprints at Rutland. Always a great way to kick off the season with Clive Eplett leading the fleet home from a hard chasing Matt Johnson and Mark Harrison third.
POSH. A long-time fixture on the RS100 calendar, with Matt Johnson showing that the Sprints were just a warm up for him. Ian Gregory was in hot pursuit with Mark Harrison showing his normal consistency to take third. [I should withdraw that statement. Mark is never consistent!]
Weir Wood. Clive Eplett won this by the thinnest of margins, taking it on countback from Mark Harrison [Maybe proving that he can be consistent], with local boy Matt Johnson taking the final podium spot.
Hayling Island RS Summer Regatta. Netley started to appear, with Nils Joliffe showing great form to take the regatta convincingly with the ever-present Clive Eplett second while Andy Jones proved that the Chew Valley boats could also perform well at times.
RS100 Nationals at Royal Torbay. This was a breezy affair, favouring those with either greater ballast, greater fitness, or just greater ability. Nigel Wakefield (Netley) won this one, with Huw Powell (sometimes Netley) loving the conditions in second and James Ross (Netley) third. Yes, it was a bit of a Netley show of strength.
RS100 Inlands at Chew Valley Lake. This was a lighter wind affair, but was again won by Nigel Wakefield [winning events in heavy and light wind implies he may be the one with greater ability]. Very close behind was Ian Gregory with Clive Eplett showing great form throughout the season to come third.
The overall results were:
6th: David Smart (Chew Valley Lake SC)– Always the bridesmaid being just off the podium at numerous events. Maybe next year?
5th: Mark Harrison (Gurnard SC) – Some good early season results propelled him along, but his love of arriving at the windward mark on port may need some rethinking for next year?
4th: Ian Gregory (Frensham Pond SC) – Lightening fast when it's light, when it can be maddening to follow him – he will be fully hiking while you're still perching in the boat.
3rd: Matt Johnson (Weir Wood SC) – The winter training clearly paid off for Matt with great early season results.
2nd: Nigel Wakefield (Netley SC) – Winning the Nationals and the Inlands was highly impressive, but he just missed out on the National Tour to show the rest that there is hope.
1st: Clive Eplett (Frensham Pond SC) – The deserved RS100 Rooster National Tour Champion with an impressively consistent set of results in varying conditions. However, it might be because the rest of the fleet see that yellow spinnaker of his being hoisted and gybe off to avoid it!
We also presented a 'Top Supporter' prize this year. That went to the ever-present Frank Jones (Chew Valley Lake SC), dad to Andy and Steve Jones. While protocol will not let me divulge his age, he should be in a Great Grand Masterly Legends category. He attended nearly every event, although some wonder if he should be on the water showing his sons how it's done. He certainly tells them which way they should have gone up the beat!
Finally the Season should be rounded off with an enormous thank you to our title sponsor Rooster Sailing. They supported all our events and we really appreciate the prizes and the continued sponsorship.
We are already looking forward to the first event of 2024, the RS Sprints at Rutland SC over the weekend of 20/21 April.
In the meantime, enjoy a Very Merry Christmas (not forgetting the letter to Santa for a few presents from Rooster) and a Verry Happy New Year.
David Smart
RS100 Chair
RS100 Rooster National Tour 2023
Sailed: 6, Discards: 3, To count: 3, Entries: 38, Scoring system: Appendix A
Rank
Class
SailNo
HelmName
Club
Sprints, Rutland
POSH
Weir Wood
Summer regatta, Hayling Island
National Champs,Torquay
Inlands, CVLSC
Total
Nett
1st
RS 100 8.4
509
Clive Eplett
Frensham Pond Sailing Club
1
(39.0 DNC)
1
2
-14
-3
60
4
2nd
RS 100 8.4
268
Nigel Wakefield
Netley Sailing Club
(39.0 DNC)
(39.0 DNC)
(39.0 DNC)
4
1
1
123
6
3rd
RS 100 8.4
239
Matt Johnson
Weir Wood Sailing club
2
1
3
-8
-8
(39.0 DNC)
61
6
4th
RS 100 8.4
259
Ian Gregory
Frensham Pond Sailing Club
(39.0 DNC)
2
4
-13
-13
2
73
8
5th
RS 100 8.4
379
Mark Harrison
Gurnard Sailing Club
3
3
2
-10
-12
-12
42
8
6th
RS 100 8.4
523
David Smart
Chew Valley Lake Sailing Club
4
4
(39.0 DNC)
-5
-6
4
62
12
7th
RS 100 8.4
508
Huw Powell
Red Wharf Bay / Netley Sailing Club
(39.0 DNC)
6
(39.0 DNC)
(39.0 DNC)
2
7
132
15
8th
RS 100 8.4
268
Bart Brigden
Netley Sailing Club
(39.0 DNC)
5
5
-9
5
-16
79
15
9th
RS 100 8.4
172
Andy Jones
Chew Valley Lake Sailing Club
(39.0 DNC)
7
(39.0 DNC)
3
-9
6
103
16
10th
RS 100 8.4
130
Steve Jones
Chew Valley Lake Sailing Club
(39.0 DNC)
-8
(39.0 DNC)
6
7
8
107
21
11th
RS 100 8.4
526
Mostyn Evans
Mounts Bay Sailing Club
8
11
(39.0 DNC)
(39.0 DNC)
16
-17
130
35
12th
RS 100 8.4
370
Nils Joliffe
Netley Sailing Club
(39.0 DNC)
(39.0 DNC)
(39.0 DNC)
1
4
39.0 DNC
161
44
13th
RS 100 8.4
363
James Ross
Netley Sailing Club
(39.0 DNC)
(39.0 DNC)
(39.0 DNC)
7
3
39.0 DNC
166
49
14th
RS 100 8.4
421
Jeremy Troughton
Netley Sailing Club
(39.0 DNC)
(39.0 DNC)
(39.0 DNC)
12
10
39.0 DNC
178
61
15th
RS 100 8.4
366
Tom Hurst
Downs Sailing Club
(39.0 DNC)
(39.0 DNC)
9
14
(39.0 DNC)
39.0 DNC
179
62
16th
RS 100 8.4
208
Darryl Sleep
Staunton Harold Sailing Club
7
(39.0 DNC)
(39.0 DNC)
(39.0 DNC)
39.0 DNC
18
181
64
17th
RS 100 8.4
238
Gavin Thompson
Chew Valley Lake Sailing Club
(39.0 DNC)
(39.0 DNC)
(39.0 DNC)
39.0 DNC
17
13
186
69
18th
RS 100 8.4
174
Daniel Webber
Chew Valley Lake Sailing Club
(39.0 DNC)
(39.0 DNC)
(39.0 DNC)
39.0 DNC
20
20
196
79
19th
RS 100 8.4
505
Tom Halhead
LLandegfedd SC
(39.0 DNC)
(39.0 DNC)
(39.0 DNC)
39.0 DNC
39.0 DNC
5
200
83
20th
RS 100 8.4
221
Martin Wilson
Emsworth Sailing Club
5
(39.0 DNC)
(39.0 DNC)
(39.0 DNC)
39.0 DNC
39.0 DNC
200
83
21st
RS 100 8.4
138
Colin Hatton
Weir Wood Sailing club
(39.0 DNC)
(39.0 DNC)
6
(39.0 DNC)
39.0 DNC
39.0 DNC
201
84
22nd
RS 100 8.4
124
Tom Fletcher
Hunts Sailing Club
6
(39.0 DNC)
(39.0 DNC)
(39.0 DNC)
39.0 DNC
39.0 DNC
201
84
23rd
RS 100 8.4
248
Tim Hulley
Weir Wood Sailing club
(39.0 DNC)
(39.0 DNC)
7
(39.0 DNC)
39.0 DNC
39.0 DNC
202
85
24th
RS 100 8.4
353
David Giles
Weir Wood Sailing club
(39.0 DNC)
(39.0 DNC)
8
(39.0 DNC)
39.0 DNC
39.0 DNC
203
86
25th
RS 100 8.4
159
Tim johnson
Chew Valley Lake Sailing Club
(39.0 DNC)
(39.0 DNC)
(39.0 DNC)
39.0 DNC
39.0 DNC
9
204
87
26th
RS 100 8.4
333
Paul Craft
TCYC
(39.0 DNC)
9
(39.0 DNC)
(39.0 DNC)
39.0 DNC
39.0 DNC
204
87
27th
RS 100 8.4
12
Jaye Rickards
Chew Valley Lake Sailing Club
(39.0 DNC)
(39.0 DNC)
(39.0 DNC)
39.0 DNC
39.0 DNC
10
205
88
28th
RS 100 8.4
203
Chris Kirk
Bosham Sailing Club
(39.0 DNC)
10
(39.0 DNC)
(39.0 DNC)
39.0 DNC
39.0 DNC
205
88
29th
RS 100 8.4
314
Mike Green
Pevensey Bay Sailing club
(39.0 DNC)
(39.0 DNC)
(39.0 DNC)
39.0 DNC
39.0 DNC
11
206
89
30th
RS 100 8.4
364
Duncan Barr
Netley Sailing Club
(39.0 DNC)
(39.0 DNC)
(39.0 DNC)
39.0 DNC
11
39.0 DNC
206
89
31st
RS 100 8.4
268
Nick Creak
Netley Sailing Club
(39.0 DNC)
(39.0 DNC)
(39.0 DNC)
11
39.0 DNC
39.0 DNC
206
89
32nd
RS 100 8.4
226
Simon Bennett
Chew Valley Lake Sailing Club
(39.0 DNC)
(39.0 DNC)
(39.0 DNC)
39.0 DNC
39.0 DNC
14
209
92
33rd
RS 100 8.4
331
Nick Edmonds
Chew Valley Lake Sailing Club
(39.0 DNC)
(39.0 DNC)
(39.0 DNC)
39.0 DNC
39.0 DNC
15
210
93
34th
RS 100 8.4
300
Leighton King
Netley Sailing Club
(39.0 DNC)
(39.0 DNC)
(39.0 DNC)
39.0 DNC
15
39.0 DNC
210
93
35th
RS 100 8.4
183
David Tarr
Killaloe sailing club
(39.0 DNC)
(39.0 DNC)
(39.0 DNC)
39.0 DNC
18
39.0 DNC
213
96
36th
RS 100 8.4
206
Jon Elmes
Chew Valley Lake Sailing Club
(39.0 DNC)
(39.0 DNC)
(39.0 DNC)
39.0 DNC
39.0 DNC
19
214
97
37th
RS 100 8.4
222
Mike Boswell
Royal Brighton Yacht Club
(39.0 DNC)
(39.0 DNC)
(39.0 DNC)
39.0 DNC
19
39.0 DNC
214
97
38th
RS 100 8.4
218
Richard Wach
Bristol Corinthian Sailing Club
(39.0 DNC)
(39.0 DNC)
(39.0 DNC)
39.0 DNC
39.0 DNC
21
216
99
Sailwave Scoring Software 2.29.0
www.sailwave.com