Results : RS100 Rooster National Tour
(5 events, 3 to count)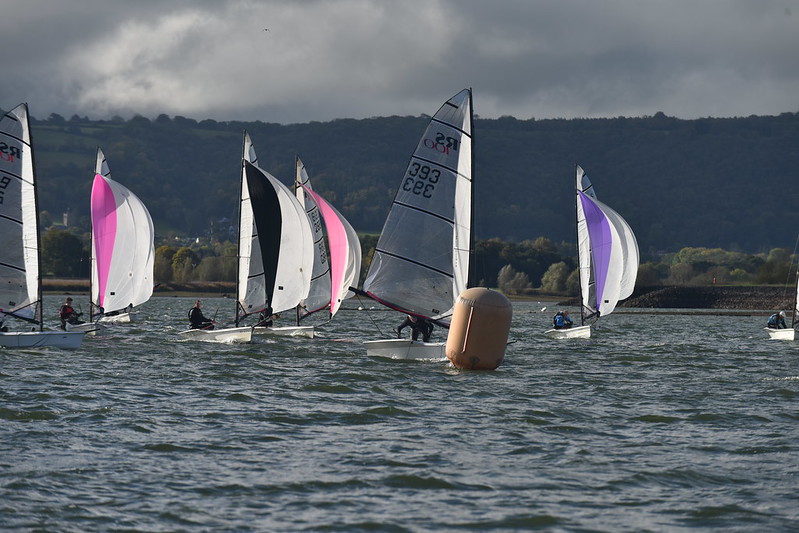 2022 Rooster RS100 National Tour Overall
Professor Clive Eplett wrote his report on the final event of 2022, the Rope4Boats Inlands at Chew over the weekend of 22/23 October. In addition, we celebrated the end of the Rooster National Tour with the final Tour prizegiving.
There were five events held throughout the year to try to sort the flotsam from the jetsam. From those five events, three were to count to identify who floated to the top of the Rooster Tour. Ten of the 39 sailors who took part completed three events, so were in contention. In reverse order they were;
10 Jon Elmes (Chew Valley Lake)
Showed definite signs of improvement until he took a nasty tumble off his ladder, so missing his home event at Chew. We wish him a speedy recovery and look forward to seeing him continue his climb up the fleet.
9 Bart Bridgen (Netley)
Great to see a Netley boat in the qualifying fray. We wonder if he might encourage some more of his flock to travel, although not if they continue to win events when they turn up!
8 Stephen Jones (Chew Valley Lake)
The Jones brothers seem to hunt in a pack. Steve is someone who keeps his boat super flat when it blows and revels in things when others prefer to stay in the bar.
7 Mark Harrison (Gurnard)
Class stalwart and retired chairman, Harrison's never-give-up-relentlessness brought him a well-earned but tight victory at Weir Wood, in a season otherwise not always of his usual high standard. He is about to take his advanced RYA juror exams, so we'd better all watch our rules adherence even more next year
6 Matt Johnson (Weir Wood)
A steady climber and always to be found near the front. He's a bit like a Terminator – he never gives up and will get you if you relax for one second, particularly with his excellent downwind speed. He's also probably young enough to be in the youth wing.
5 Huw Powell (Red Wharf Bay/Netley)
The National Champion was unable to repeat his winning ways at the Inlands. Has a distinct love of heavy winds where he is almost untouchable. Despite his stated hatred of the light stuff, he is often surprisingly quick when the lightweights are in their element!
4 Andy Jones (Chew Valley Lake)
Should still be in hiding after taking out the class chair in the last race at the Nationals. Andy remains a major force to contend with. He loves strong breeze, is handy when it's moderate and quick when it's light. So not too many weaknesses.
3 David Smart (Chew Valley Lake)
Oh dear! Smart does have glaring faults and they certainly glared at us this year. The year was going so well until he bought Greg's old boat and added a stunning (other adjectives are available) gold stripe. Has a tendency to bang a corner, although, annoyingly for others, those corners often worked this year.
2 Clive Eplett (Frensham Pond)
Avoided some of the heavier wind days this year, blaming aches and pains, but Eplett is ever present at the front of the fleet. Blisteringly quick in the light and just very quick at other times. Not a lover of gold stripes! Or wobbly blue ones.
1 Tom Halhead (Llandegfedd)
While a relative newcomer to the fleet, Halhead showed that he has what it takes to be consistently at the front. He attended every event and scored a wonderfully organised 1,2,3,4,5 - a royal flush no less. We'll have to rename him King Tom! Congratulations on becoming the winner of the RS100 Rooster National Tour.
Elsewhere in the class, we have new boats being built by Ginger Boats. Get in touch with them, to bag yourself a shiny new steed.
The next event is the always excellent RS Sprints over the weekend of 22/23 April - the first of the 2023 Rooster National Tour.
…And finally, a massive thanks to Rooster for supporting the RS100s through 2022. We really appreciate it and look forward to your support in 2023.
David Smart
| | | | | | | | | | | |
| --- | --- | --- | --- | --- | --- | --- | --- | --- | --- | --- |
| Position | Name | Sail No | Club | POSH | Weirwood | Nationals | Leigh&L | Chew | Total | 3 to count |
| 1 | Tom Halhed | 393 | Llandegfedd | 3 | 2 | 4 | 1 | 5 | 15 | 6 |
| 2 | Clive Eplett | 509 | Frensham pond | 2 | 3 | 10 | | 2 | 17 | 7 |
| 3 | David Smart | 277/523 | Chew Valley | 4 | | 3 | 2 | 11 | 20 | 9 |
| 4 | Andrew Jones | 172 | Chew Valley | 7 | | 2 | | 3 | 12 | 12 |
| 5 | Huw Powell | 508 | RedWharf Bay/Netley | 8 | | 1 | | 4 | 13 | 13 |
| 6 | Matt Johnson | 239 | Weir Wood | 5 | 4 | 5 | | 7 | 21 | 14 |
| 7 | Mark Harrison | 379 | Gurnard | 6 | 1 | 7 | | 10 | 24 | 14 |
| 8 | Stephen Jones | 130 | Chew Valley | 9 | | 6 | | 8 | 23 | 23 |
| 9 | Bart Bridgen | 268 | Netley | | 8 | 9 | | 9 | 26 | 26 |
| 10 | Jon Elms | 206 | Chew Valley | 10 | | 11 | 6 | | 27 | 27 |
| 11 | Tom Fletcher | 124 | Hunts | | | | | 13 | | |
| 12 | Colin Hatton | 138 | Weir Wood | | 10 | | | | | |
| 13 | Nigel Wakefield | 145 | Netley | | | | | 1 | | |
| 14 | Andrew Southall | 147 | Chew Valley | | | | | 20 | | |
| 15 | Martin Tubb | 157 | Leigh & Lowton | | | | 8 | | | |
| 16 | Daniel Webber | 174 | Wimbleball | | | 17 | | 19 | | |
| 17 | Dave Tarr | 183 | Queen Mary | | | | | 14 | | |
| 18 | Darrell Sleep | 208 | Staunton Harold | | | | | 16 | | |
| 19 | Louise Mckeand | 209 | Leigh & Lowton | | | | 10 | | | |
| 20 | Richard Wach | 218 | Bristol Corinthian | | | | | 17 | | |
| 21 | Maggie Ayre | 219 | Castle Cove | | | 14 | | | | |
| 22 | Gavin Thompson | 238 | Chew Valley | | | 13 | | 15 | | |
| 23 | Amy Hulley | 247 | Weir Wood | | 11 | | | | | |
| 24 | Gareh William | 253 | Leigh & Lowton | | | | 5 | | | |
| 25 | Ian Gregory | 259 | Frensham pond | 1 | | 8 | | | | |
| 26 | Dave Kelsall | 265 | Leigh & Lowton | | | | 9 | | | |
| 27 | Ian Bullock | 284 | Burghfield | | 9 | | | | | |
| 28 | Rob Burridge | 287 | Weir Wood | | 5 | | | | | |
| 29 | Nick Edmonds | 331 | Chew Valley | | | | | 12 | | |
| 30 | David Giles | 353 | Weir Wood | | 6 | | | | | |
| 31 | Andrew Todd | 360 | Bala | | | | 4 | | | |
| 32 | Charlie Camm | 365 | Castle Cove | | | 16 | | | | |
| 33 | Tom Hirst | 366 | Downs | | 12 | | | | | |
| 34 | James Ross | 373 | Netley | | | | | 6 | | |
| 35 | Floris Stapel | 445 | Brassermeer | | | 15 | | | | |
| 36 | Matthew Scott | 458 | Chew Valley | | | | | 18 | | |
| 37 | Francis Bucknall | 470 | Weir Wood | | 7 | | | | | |
| 38 | Andrew Hodgson | 488 | Bala | | | | 7 | | | |
| 39 | Adam Catlow | 503 | Leigh & Lowton | | | 12 | 3 | | | |