Results / Inland Championship Chew Valley Lake SC - 23/10/2021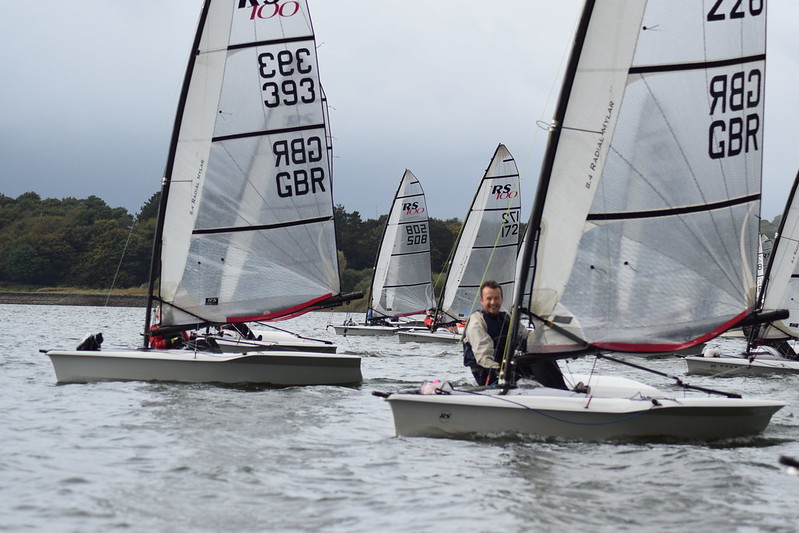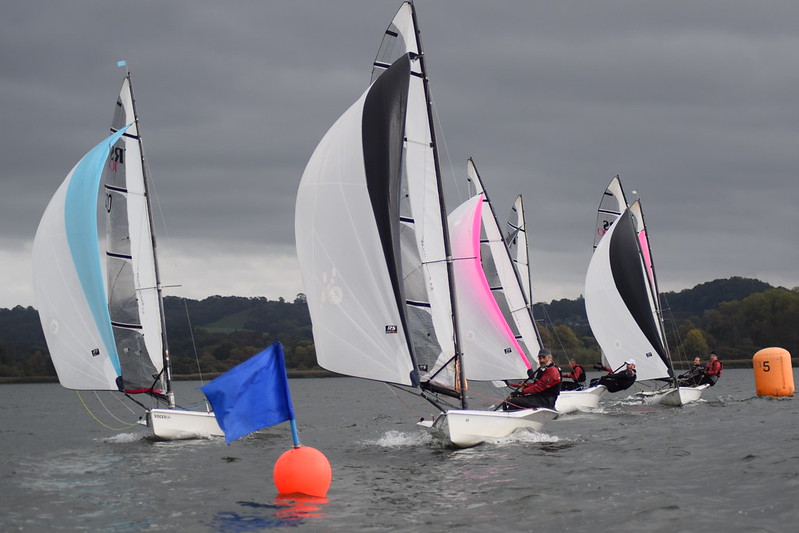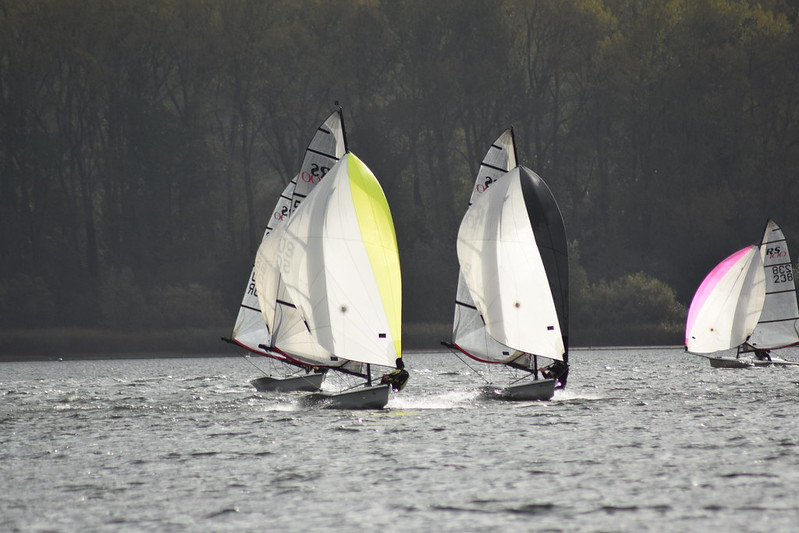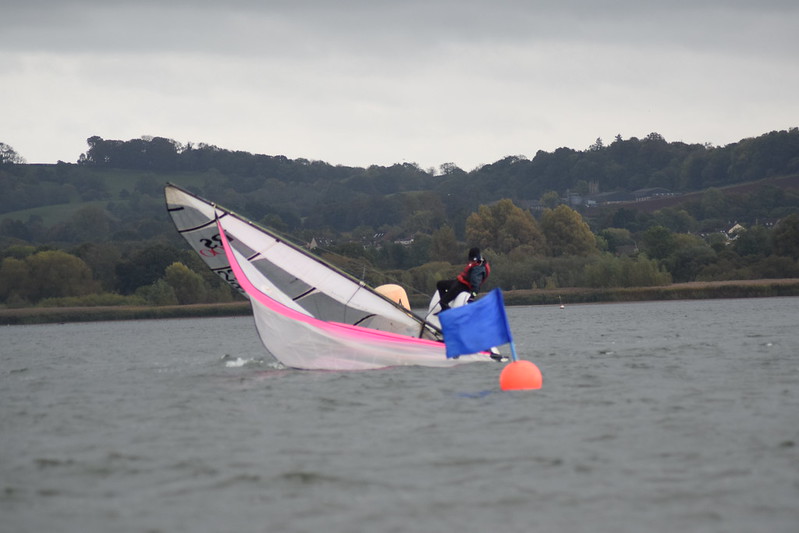 RS100 Inland Championships, Part of the Rooster National Tour
The 2021 Inlands were held at the beautiful Chew Valley Lake SC on 23/24 October. There was a forecast of lighter winds on Saturday, but a Southerly Force 4 gusting 6 expected on Sunday. Saturday was shared with the RS200s, giving sailors a little more to think about as the 100s started second.
Let's explore what 10 things we learned:
Avoiding other boats is important. The RS200s coming down the run was a beautiful spectacle of colourful kites. However, finding a way through was challenging. Clive Eplett adopted the strategy of banging the port layline early to avoid the majority of the fleet. Others followed his lead, mainly because they were almost always behind him.
The wind does not always follow the forecast, especially at Chew. The wind was weird, particularly on Sunday. It never really blew, until the very last race, when a large gust led to much swimming practice. It favoured those who like the lighter winds, who tend to come from Frensham, although it must be said that they're not exactly slouches even when it does blow.
Don't hit things. It is remarkably difficult to see anything through a 100 kite, so one can be completely oblivious to a boat beating merrily towards you. Seeing a boat on its last lap at the front of the fleet (Andy Jones) wrapped up in another boat's kite (nameless!) demonstrated the issue very well, although the language heard may have been a little less than cultured.
Consistency pays. Eplett and Gregory (aka the Frensham fliers) were consistently in the top 3. They ran away with the event, having their own battle at the top for supremacy with three race wins apiece, with Eplett edging the overall by a mere 2 points. They only allowed one other race winner. That was Tom Halhead of Llandegfedd leading the way from gun to gun in the final race, which took him above Powell and Smart in a very tightly fought battle for the final podium place.
Being OCS can have its advantages. Eplett demonstrated this in Race 6 by being well in front of the pin end when the gun went, so went round and ducked the fleet, only for him to pop up at the front again by the top mark, finishing second. Smart had done the same thing in Race 2, finishing 4th. Maybe a new tactic?
Learn from your mistakes. In the last race, Austen Milner of Chew sailed a fabulous first beat to round in fourth place. However the wind was playing silly buggers and shifted left by 40 degrees. He hoisted his kite, only to be blown onto the spreader mark and watch the fleet sail over him as he dropped the kite and tried to beat around the spreader. He won't be doing that again.
Being able to count is important. Mark Harrison was heard in the bar saying how he liked two lap courses with longer legs. Being inland doesn't allow for such luxuries, so we were sailing three laps. In race 5, when Harrison was lying in a hard won third place, he performed a prefect gybe drop, rounding the starboard gate buoy, setting off on his final beat. When checking where the leading two boats were, he realised that they were sailing to the finish line with their kites up. 'Oh ****' was heard across the lake. We now know why he prefers two laps…it's hard counting to three!
Sponsors are great. Many thanks to Rooster for their sponsorship. It allows some prizes to be spread around the fleet, with Francis Bucknall of Llandegfedd taking home a Rooster cap for his regular support of 100 events.
The Chew fleet is growing fast. There were 13 local Chew boats taking part. The fleet has grown rapidly in the last couple of years as many sailors are discovering the joys of sailing a high performance hiking skiff. It's great holding events where there is a strong local presence, with local sailors able to learn by sailing with the travelling clan.
Chew is a favourite location. There were friendly welcomes, well managed courses (thanks to the race team led by Bill Chard and Ian Cadwallader), slick mark laying, a beautiful setting and fantastic freshly made food. The 100s plan to return in 2022.
David Smart, RS100 fleet Chair
RS100 Inland Championship 2021
Chew Valley Lake Sailing Club
Results are final as of 16:11 on October 25, 2021
RS100 Class
| Rank | Class | Sail Number | Helm | Club | R1 | R2 | R3 | R4 | R5 | R6 | R7 | Total | Nett | Notes |
| --- | --- | --- | --- | --- | --- | --- | --- | --- | --- | --- | --- | --- | --- | --- |
| 1st | RS100 | 509 | Clive Eplett | Frensham Pond | 2.0 | 3.0 | 1.0 | 1.0 | 1.0 | 2.0 | (24.0 DNC) | 34.0 | 10.0 | |
| 2nd | RS100 | 259 | Ian Gregory | Frensham Pond | 1.0 | 1.0 | 4.0 | (6.0) | 3.0 | 1.0 | 2.0 | 18.0 | 12.0 | |
| 3rd | RS100 | 393 | Tom Halhead | Llandegfedd | 4.0 | 2.0 | 5.0 | 5.0 | (14.0) | 7.0 | 1.0 | 38.0 | 24.0 | |
| 4th | RS100 | 508 | Huw Powell | Red Wharf Bay / Netley | 7.0 | 5.0 | 3.0 | 2.0 | 2.0 | (10.0) | 6.0 | 35.0 | 25.0 | |
| 5th | RS100 | 277 | David Smart | Chew Valley Lake SC | 5.0 | 4.0 | 2.0 | (8.0) | 5.0 | 4.0 | 7.0 | 35.0 | 27.0 | |
| 6th | RS100 | 379 | Mark Harrison | Gurnard sc | 10.0 | (15.0) | 6.0 | 3.0 | 4.0 | 6.0 | 4.0 | 48.0 | 33.0 | |
| 7th | RS100 | 172 | Andrew Jones | CVLSC | 8.0 | (9.0) | 9.0 | 6.5 RDGa | 7.0 | 3.0 | 3.0 | 45.5 | 36.5 | |
| 8th | RS100 | 470 | Francis Bucknall | Llandegfedd SC | 3.0 | 11.0 | 8.0 | 4.0 | 11.0 | (13.0) | 5.0 | 55.0 | 42.0 | |
| 9th | RS100 | 130 | Steve Jones | Chew Valley Lake SC | 9.0 | 7.0 | 7.0 | 7.0 | 6.0 | (17.0) | 9.0 | 62.0 | 45.0 | |
| 10th | RS100 | 268 | Bart Bridgen | Netley SC | 12.0 | 6.0 | 12.0 | 12.0 | 10.0 | 5.0 | (14.0) | 71.0 | 57.0 | |
| 11th | RS100 | 226 | Simon Bennett | CVLSC | 15.0 | 14.0 | 10.0 | 9.0 | (16.0) | 8.0 | 8.0 | 80.0 | 64.0 | |
| 12th | RS100 | 320 | Oliver Houseman | CVLSC | 6.0 | (16.0) | 13.0 | 14.0 | 9.0 | 14.0 | 15.0 | 87.0 | 71.0 | |
| 13th | RS100 | 441 | Austen Milner | Chew Valley Lake SC | 14.0 | 8.0 | 11.0 | 11.0 | (19.0) | 18.0 | 17.0 | 98.0 | 79.0 | |
| 14th | RS100 | 206 | Jon Elmes | Chew Valley Lake SC | 17.0 | (18.0) | 17.0 | 16.0 | 8.0 | 11.0 | 12.0 | 99.0 | 81.0 | |
| 15th | RS100 | 331 | Nick Edmonds | Chew Valley Lake SC | 11.0 | 20.0 | (24.0 DNS) | 10.0 | 12.0 | 15.0 | 13.0 | 105.0 | 81.0 | |
| 16th | RS100 | 262 | Jason Rickards | CVLSC | 16.0 | 10.0 | (24.0 DNS) | 13.0 | 15.0 | 20.0 | 10.0 | 108.0 | 84.0 | |
| 17th | RS100 | 208 | Darrell Sleep | Staunton Harold | 18.0 | 17.0 | 15.0 | (24.0 DNF) | 17.0 | 12.0 | 20.0 | 123.0 | 99.0 | |
| 18th | RS100 | 502 | Rob Mitchell | Chew Valley Lake Sailing Club | 13.0 | 13.0 | (24.0 DNS) | 17.0 | 22.0 | 16.0 | 18.0 | 123.0 | 99.0 | |
| 19th | RS100 | 526 | Mostyn Evans | Mounts Bay SC | 20.0 | 12.0 | 16.0 | 15.0 | (21.0) | 21.0 | 19.0 | 124.0 | 103.0 | |
| 20th | RS100 | 313 | Josh Bell | CVLSC | 19.0 | 19.0 | 14.0 | 18.0 | 13.0 | (24.0 DNF) | 21.0 | 128.0 | 104.0 | |
| 21st | RS100 | 228 | Richard Moxey | Chew Valley Lake SC | 21.0 | 21.0 | 18.0 | (24.0 DNF) | 18.0 | 19.0 | 11.0 | 132.0 | 108.0 | |
| 22nd | RS100 | 238 | Gavin Thompson | CVLSC | 22.0 | 22.0 | (24.0 DNF) | 24.0 DNF | 20.0 | 9.0 | 16.0 | 137.0 | 113.0 | |
| 23rd | RS100 | 218 | Richard Wach | Bristol Corinthian Yacht Club | (24.0 DNC) | 24.0 DNC | 24.0 DNF | 24.0 DNC | 23.0 | 24.0 DNF | 24.0 DNC | 167.0 | 143.0 | |
Sailwave Scoring Software 2.25.11
www.sailwave.com