Welcome
Change to SIs following no racing today Saturday 2 Nov. Up to four fleet races tomorrow. Discard after three. One race for a series. So come along and race!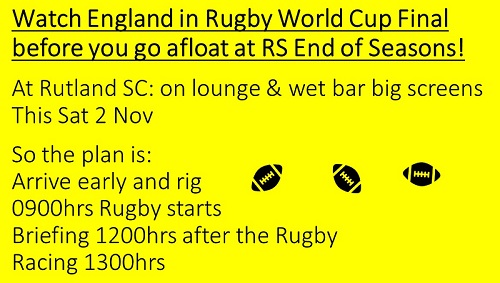 Your RS End of Season Regatta is the perfect way to close your 2019 RS racing campaign with all your RS sailor friends
One big RS pursuit race on Saturday then three fleet races on Sunday
Top end race management, a fabulous expanse of open water, great catering and bar team, Saturday evening meal, and a warm Rutland welcome make this racing weekend an essential!
Rooster National Tour prize giving for RS100, RS200, RS300, RS400, RS600, RS800 and RS Vareo fleets
RS300 Rooster National Tour event no 8, with 3 to count
RS400 Rooster National Tour event no 7, with 4 to count
RS800 Rooster National Tour event no 8, with 5 to count
RS Vareo Rooster National Tour event no 4, with 2 to count
The Racing:
Please note that as part of our sustainability efforts paper copies of SI will not be available at registration. Please feel free to print out your own copy at home
Schedule: Sat one all fleets pursuit race, Sun 3 back to back fleet races
Registration: Sat 0900-1200hrs in the wet bar upstairs,
RS800s to weigh in on plank and scales
Sat race briefing: 1200hrs in the wet bar upstairs
Sat pursuit race first start: 1300hrs
Sun race briefing: 0930hrs in the wet bar upstairs
Sun first warning signal: 1030hrs
Entry fee:
Single hander RS100, RS300, RS600 and RS Vareo : £38
Double hander RS200, RS400, RS500, RS800: £50
Under 18 single hander RS100, RS300, RS600 and RS Vareo : £29.50
Under 18 double hander RS200, RS400, RS500, RS800: £39
Rutland SC members single hander: £5
Rutland SC members double hander: £10
Late entry fee after 2359hrs Tues 29 Oct: £5
You can enter online until 2359hrs Tues 29 Oct by which time you must have paid your entry fee. Entry and payment after this time will need to be made at registration on Sat 2 Nov and will be subject to a late entry fee of £5.
Rutland SC members are to enter online and pay at registration. This will enable your entry to show up on the entry list and should encourage more club members to join in.
Please note that in accordance with RS Class Association Rules in order to be eligible to race at this event you need to have one member of the RS Class Association in your RS boat. One event membership costs £10 and can be added to your online entry. You will need to print off the one event membership form
here
and bring it completed and signed to the event registration. You can take out full membership by going to the title in the menu to the left of this text.
If an under 18 year old is going to be racing in the boat then an under 18 consent form must be completed and handed in at registration. You can print the form off
here
or fill the form in at registration.
Please ensure that you read the RSC visitor information
here
In order to alleviate the need to fill in an extra paper form at registration RSC has agreed that by entering online you have agreed to their club requirements with regards to biosecurity (you are confirming that your boat has been 'Checked, Cleaned and Dried' for a minimum of two days prior to arriving at RSC), medical declaration, agreement to comply with the Racing Rules of Sailing, RYA Prescriptions and Sailing Instructions, including measurement compliance, licensing laws, RSC rules, liability and photography permission. Please contact me on
[email protected]
if you have any questions.
You must comply with the Check, Clean, Dry procedures
here
in order to prevent the spread of non-native species.
The Shoreside Stuff:
Steep Wisdom are the new catering team at Rutland SC. They are really looking forward to looking after you with breakfast served early from 0830hrs, hot food and drinks throughout the weekend and the bar open both afternoons and evenings. More info
here
After a great day's racing why not dine with your RS friends before settling down for a good natter in the bar?
The event Saturday evening meal will be served at 1730hrs in the upstairs galley
Cost £10 for two courses:
Chicken Parcel (boneless chicken breast stuffed with sage onion and onion stuffing wrapped in bacon) served with roasted potatoes and seasonal vegetables

OR vegetarian options:

Brie, Cranberry and Mushroom Wellington or
Vegetable Nut Roast with Apricot and Goats Cheese.

Pudding choice:

Sticky Toffee Pudding or
Lemon Meringue Pie
Both served with cream

Please let Nick or Caroline know if you have any special dietary requirements on
[email protected] or 01780 720292 option 3

Buy your evening meal ticket with your online entry to help Nick and his team prep effectively. More tickets will be on sale from the canteen during event registration Sat 0900-1200hrs
RSC has a great website full of useful info
here
Please note that no dogs are allowed on site at RSC
Accommodation:
Information on RSC on site accommodation and that locally available is
here
Camping in campervans or cars is not permitted on site
I look forward to seeing you at Rutland!
Cheers
Clare