Results / Bristol Corinthian YC - 11/06/2022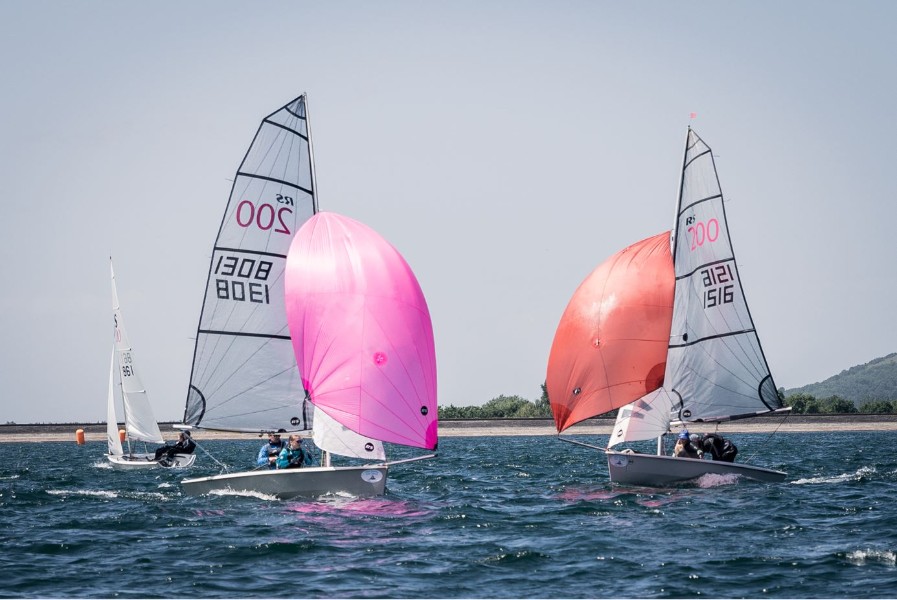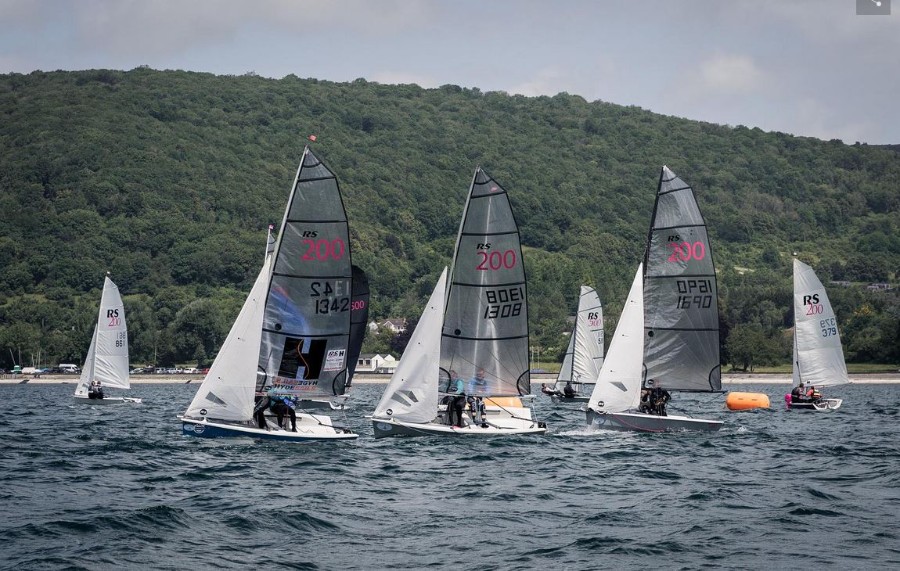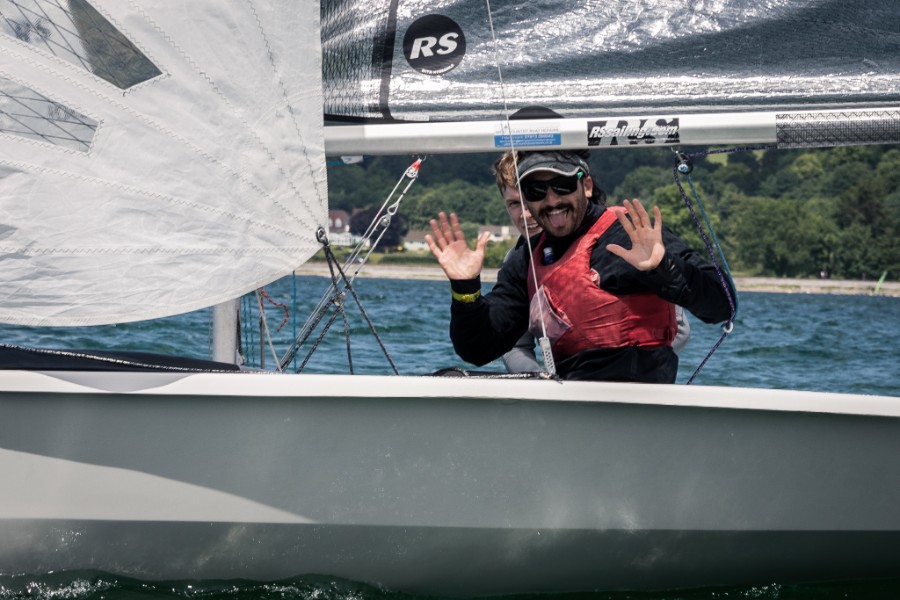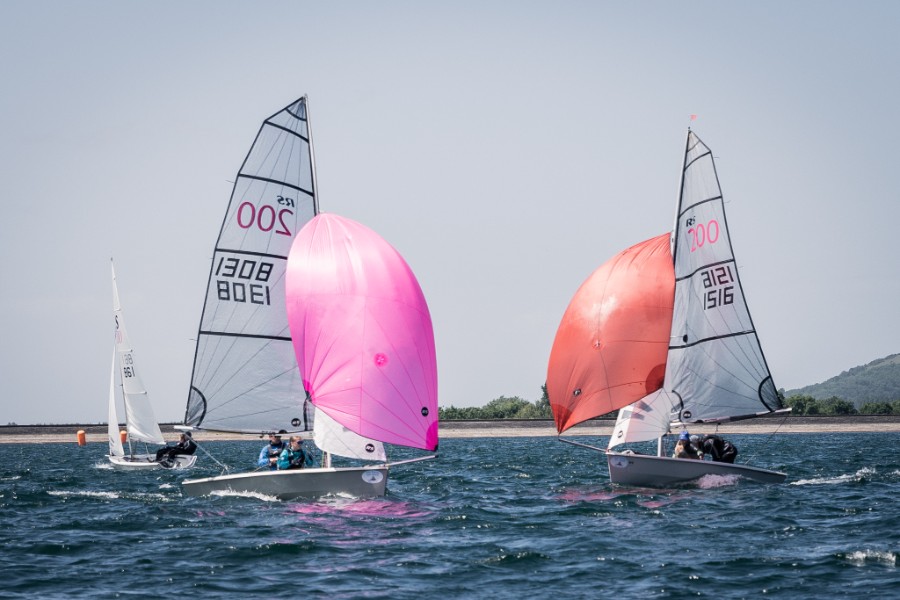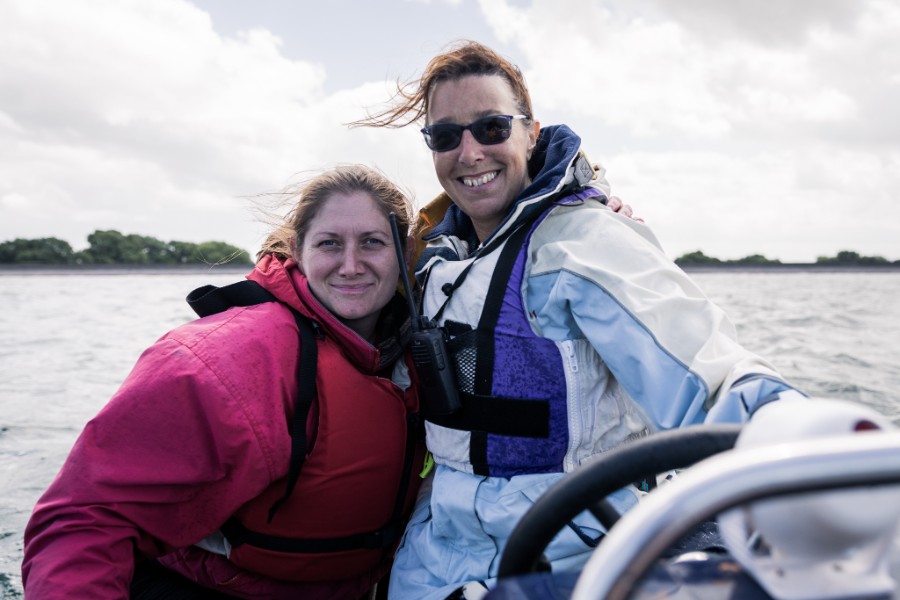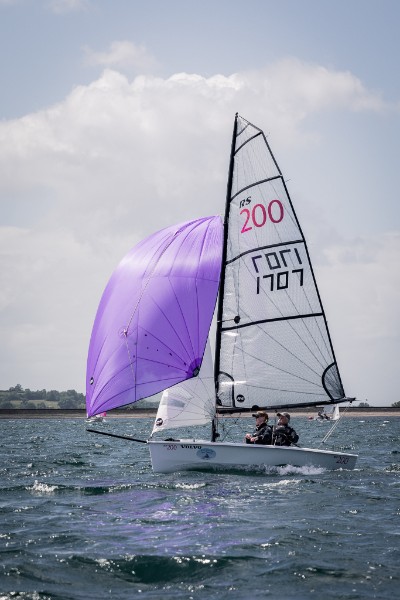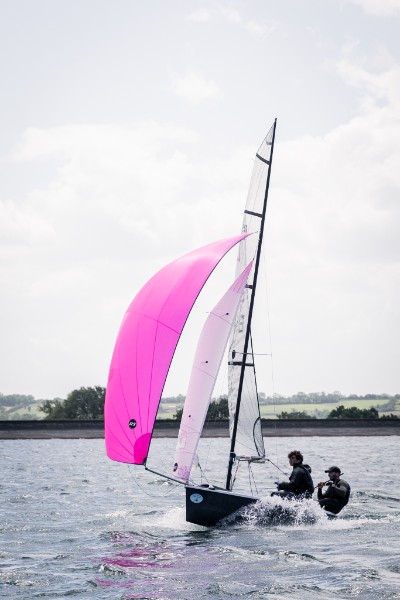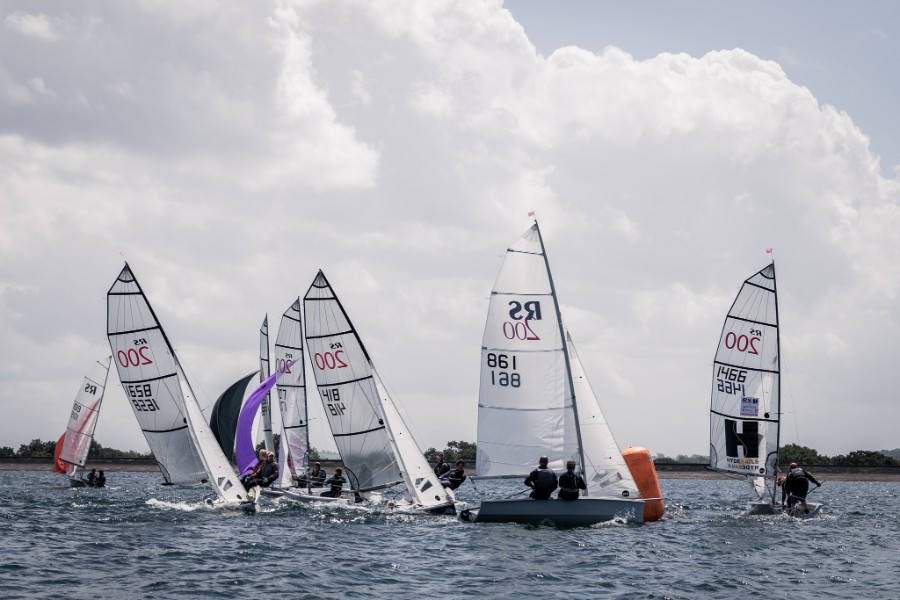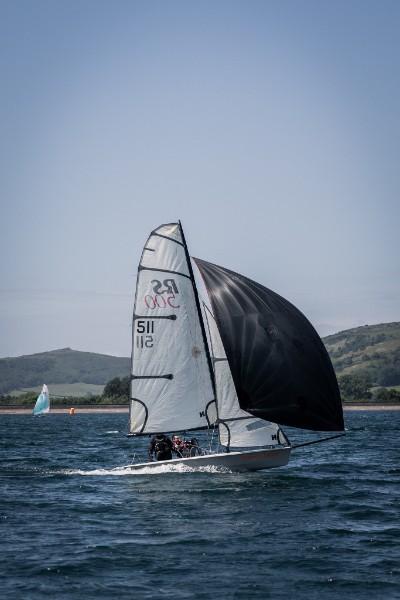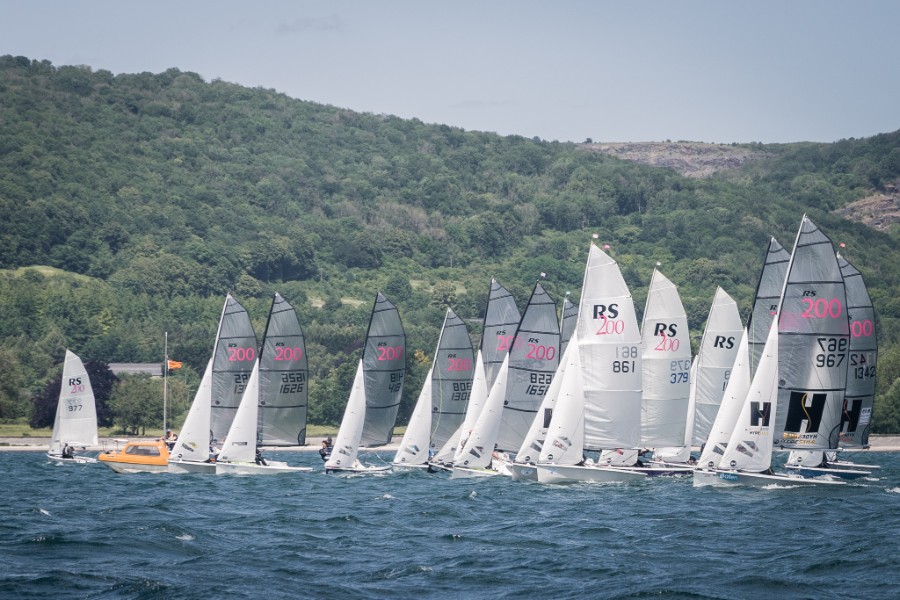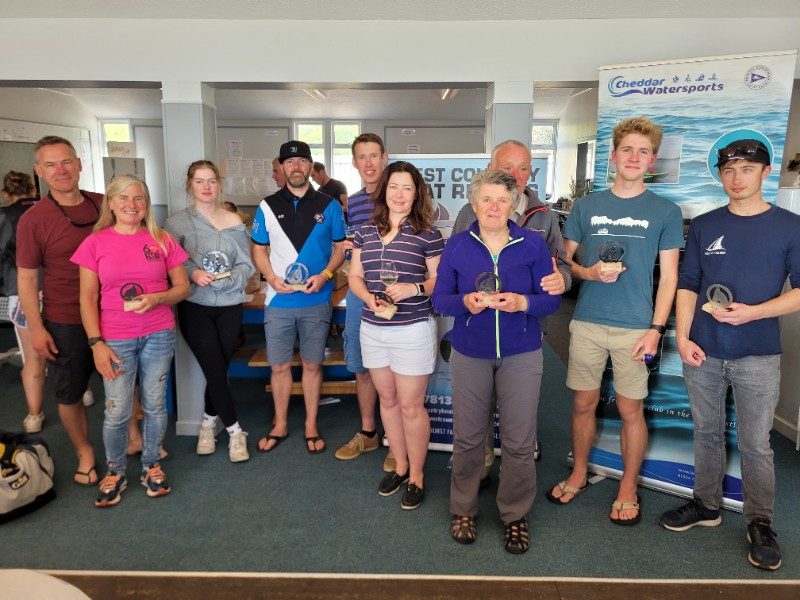 West Country Boat Repairs RS200 SW Ugly Tour at Bristol CYC – what a day at the Garda of the West Country!
24 RS200's revelled in the most amazing conditions that only come along once every few years! Wall to wall sunshine, not a cloud, 12-24 knots of wind and an ambitious programme of 5 races completed with great style, thanks to an excellent race team.
Round 4 of the West Country Boat Repairs RS200 SW Ugly Tour proved to be a tour de force for the fleet and host club. Somewhat surprisingly, the fleet was welcomed by a light wind scene when they arrived but by the time of the first race at 12.00 there was a good 12-14 knot breeze with some interesting gusts. Sharing a track with the RS500's the first race proved to be a rapid fire 3 lap 23 minute sprint but then PRO Bob Arky Wainwright lengthened the track and fitted in another 4 races with the fleet off the water by 16.00.
By race 3 the breeze had built and there was some real full on downwind action in 20-22 knots with some meaty gusts. Race 4 eased back but then race 5 was back full on.
Edd Whitehead/Anna Horackova were clearly confused thinking that they were in an RS500 such was the distance they were in the lead in 3 of their 5 race victories! John Teague/Naomi Pound did manage to lead for the majority of one race in a very close tussle but Edd/Anna got the better of them. The Cornish wizards Henry Hallam/Ashley Hill were the only other boat to consistently live with the aces to record 2nd overall.
David Sweet/Derian Scott from CVLSC won silver division by the narrowest of margins from John Harvey/Sarah Maddison with a great 8th overall in an obvious determined bid to get promoted. Sarah/David Green Llandegfedd were winners of Bronze division just ahead of Milly/ Taryn Tregaskis from Restronguet.
The club house had a wonderful buzz afterwards as a contented fleet tucked into fab food from BCYC's new caterers Antonia's Deli. We don't get many days like this.
It is off to the always popular Parkstone for round 5 on July 16th – bring it on.
Pete Vincent
Photo Gallery: https://www.aarongeis.com/-/galleries/cws-rs-200-and-500-11-june-22
Event Video: https://youtu.be/Yy0Kk0q5t64
Photos and video: aarongeis.com
Cheddar Watersports BCYC

RS200 SW Ugly Tour
Results are final as of 14:20 on June 12, 2022
Overall
| Rank | Class | Sail No | Helm | Crew | Club | R1 | R2 | R3 | R4 | R5 | Total | Nett |
| --- | --- | --- | --- | --- | --- | --- | --- | --- | --- | --- | --- | --- |
| 1st | RS 200 | 1626 | Edd Whitehead | Anna Horackova | Parkstone/BCYC | (1.0) | 1.0 | 1.0 | 1.0 | 1.0 | 5.0 | 4.0 |
| 2nd | RS 200 | 1621 | Henry Hallam | Ashley Hill | St Mawes SC | (7.0) | 4.0 | 2.0 | 2.0 | 2.0 | 17.0 | 10.0 |
| 3rd | RS 200 | 1365 | John Teague | Naomi Pound | BCYC | 4.0 | 2.0 | 3.0 | 3.0 | (5.0) | 17.0 | 12.0 |
| 4th | RS 200 | 1395 | Iain Bird | Fresh Abendstern | R.D.N.B.Y.C | 2.0 | 3.0 | (11.0) | 5.0 | 3.0 | 24.0 | 13.0 |
| 5th | RS 200 | 1245 | Cliff Milliner | Bec Milliner | Cotswold SC | 3.0 | 5.0 | 5.0 | (23.0 UFD) | 4.0 | 40.0 | 17.0 |
| 6th | RS 200 | 418 | Fred Mainwaring | Bettine Harris | BCYC | (16.0) | 11.0 | 4.0 | 6.0 | 7.0 | 44.0 | 28.0 |
| 7th | RS 200 | 1308 | Mark Oakey | Jess Smith | Cardiff Bay YC | (14.0) | 14.0 | 7.0 | 4.0 | 8.0 | 47.0 | 33.0 |
| 8th | RS 200 | 1466 | David Sweet | Derian Scott | Chew Valley Lake SC | (12.0) | 6.0 | 6.0 | 12.0 | 9.0 | 45.0 | 33.0 |
| 9th | RS 200 | 1658 | John Harvey | Sarah Maddison | Thornbury SC | 6.0 | 10.0 | 8.0 | 9.0 | (11.0) | 44.0 | 33.0 |
| 10th | RS 200 | 1707 | Pete Vincent | Kirsten Glen | BCYC | 8.0 | 7.0 | 14.0 | 7.0 | (23.0 RET) | 59.0 | 36.0 |
| 11th | RS 200 | 1690 | Chris Baker | Karen Raymount | BCYC | 11.0 | 9.0 | 12.0 | 10.0 | (23.0 RET) | 65.0 | 42.0 |
| 12th | RS 200 | 379 | Nick Smith | Hannah Metcalfe-Smith | Thornbury SC | (15.0) | 13.0 | 13.0 | 11.0 | 6.0 | 58.0 | 43.0 |
| 13th | RS 200 | 861 | Duncan Glen | Lorna Glen | Parkstone YC | 5.0 | 8.0 | 9.0 | (23.0 RET) | 23.0 RET | 68.0 | 45.0 |
| 14th | RS 200 | 1342 | Sarah Green | David Green | Llandegfedd | 13.0 | 15.0 | 10.0 | (23.0 RET) | 10.0 | 71.0 | 48.0 |
| 15th | RS 200 | 541 | Milly Tregaskes | Taryn Banks | Restronguet SC | (23.0 DNF) | 16.0 | 16.0 | 13.0 | 12.0 | 80.0 | 57.0 |
| 16th | RS 200 | 967 | Graham Flynn | Darcie Flynn | The Chase SC | 9.0 | 12.0 | 15.0 | (23.0 UFD) | 23.0 RET | 82.0 | 59.0 |
| 17th | RS 200 | 1019 | James Williams | Vicky Counsell | Chew Valley Lake SC | 10.0 | (23.0 UFD) | 23.0 RET | 8.0 | 23.0 DNC | 87.0 | 64.0 |
| 18th | RS 200 | 1641 | William Rhodes | Chris Chorlton | BCYC | 19.0 | 17.0 | 17.0 | (23.0 RET) | 23.0 RET | 99.0 | 76.0 |
| 19th | RS 200 | 977 | Paul Pritchard | Clare Horackova | BCYC | 17.0 | 19.0 | (23.0 RET) | 23.0 RET | 23.0 RET | 105.0 | 82.0 |
| 20th | RS 200 | 1516 | Martyn Stubbs | Yvonne | Chew Valley Lake SC | 20.0 | 18.0 | (23.0 RET) | 23.0 RET | 23.0 RET | 107.0 | 84.0 |
| 21st | RS 200 | 1443 | Charles Richardson | Ro Jones | BCYC | 18.0 | (23.0 RET) | 23.0 RET | 23.0 RET | 23.0 RET | 110.0 | 87.0 |
| 22nd | RS 200 | 1080 | Rose Hallam | Benjamin Marsden | St Mawes SC | (23.0 DNF) | 23.0 DNC | 23.0 RET | 23.0 RET | 23.0 RET | 115.0 | 92.0 |
Sailwave Scoring Software 2.29.0
www.sailwave.com